November is HERE and with it comes
Thanksgiving!
Thanksgiving ushers in the Holiday Season. Within just a few short weeks afterwards, not only does Christmas arrive, but also Chanukah, Winter Solstice, and Kwanzaa. It is a time of celebration for all! It is indeed "The Most Wonderful Time of the Year."
~~~~~~~~~~~~~~~~~~~~~~~~~~~~~~~~~~~~~~~~~~~~~~~~
We have a NEW ARTIST this month:
Tina Logassi of Prim Heirloom Designs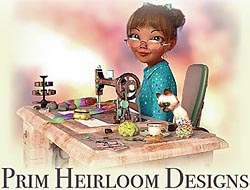 Tina joins us from Stratford, Ontario in Canada. Tina had her own sewing and crafting corner in the basement of her family home, and made her first sale of 3 fabric mice at the young age of 11. Her artistry has progressed tremendously over the last 30-years. Tina's goal is to evoke feelings of nostalgia for past eras with her art and their stories. Click on her image to the right or her thumbnail below to view her offering this month.
---
Now, Let's Shop Some Art!
---
Apple Hollow Folk Art
A Wing and A Prayer
Bears Hares and Dolls
Bittersweet Pastimes
Brady Bears
Hare and Daisy
Lynny Bee Designs
Pamda Bears
Pearl Avenue Studios
Prim Heirloom Designs
The Pumpkin Patch
Raggedy Jan to Primitve Ewe
Simply Quaint
Soft in the Head
Whimsy by Crystal

Don't forget to check out and "like" our Facebook Page!
---
Please Note: If you are seeing last month's items, please hit 'refresh' on your browser and/or clear out your temporary internet files (cache).
When a site goes live sometimes the old version still appears for a time. This is because the older version is still stored in the cache of either your computer or your Internet Service Provider (ISP). The local computer cache can be reset, but should not be done so without full understanding of the process and implications of doing so. We can direct you through this process if you like, but fortunately, both this and the ISP types of caches clear themselves on a regular basis (though the intervals at which they do so will vary) so all you really need to do is wait.
Click on Tools in the top menu bar. Scroll down and select Internet Options. Click Delete under Browsing History. At the bottom, click Delete All, or mark the items you wish to delete, such as Cache, Temporary Internet Files and History, then click Delete or Yes.
---