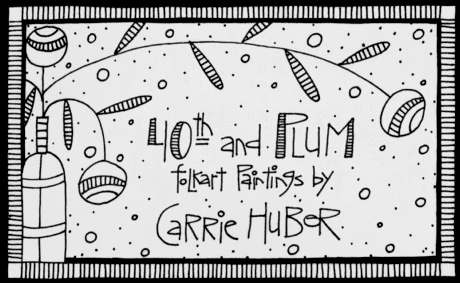 40th & Plum
---
Whimsy and Polka Dots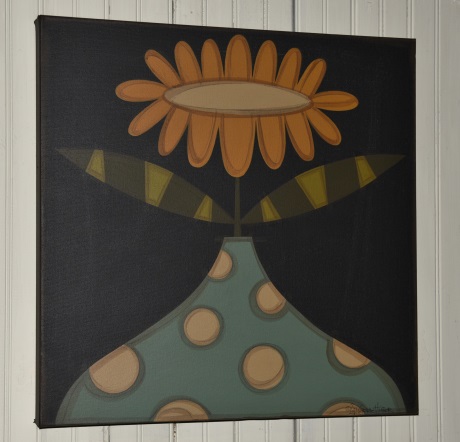 I have stacked up quite a few canvases and have been enjoying painting on them!!! This fun whimsy warm yellow flower pops up from the blue toned polka dotted vase. This is the last square floral canvas I will have for a while – better nab it while you still can!!!
It measures 20" X 20" X 1½"
$88 includes shipping and handling (in continental US only)
(Please e-mail me for shipping info outside of the continental US)
~~~~~~~~~~~~~~~~~~~~~~~~~~~~~~~~~~~~~~~~~~~~
Blooming

Two of my fall favorites in one painting! Flowers and pumpkins! Ha! This painting is the perfect size to tuck in with your fall décor or hang on the wall in a prominent spot. I am so happy to be surrounded by all the warm fall paint colors in the studio! To me fall is the most wonderful time of the year!!
It measures 12" X 36".
$75 includes shipping and handling (in continental US only)
(Please e-mail me for shipping info outside of the continental US)
~~~~~~~~~~~~~~~~~~~~~~~~~~~~~~~~~~~~~~~~~~~~
Five Tops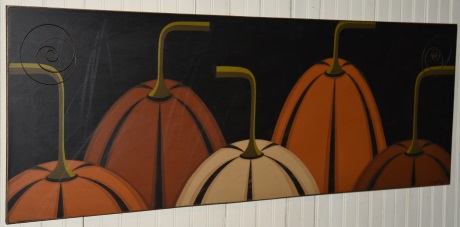 This larger painting of a colorful grouping is going to be hanging in our spare bedroom until it finds a new home! I love fall's warm orange tones and that fun little creamy white pumpkin is just the best! Hang this great piece up on your wall long into fall and through Thanksgiving
It measures 46" X 17"
$129 includes shipping and handling (in continental US only)
(Please e-mail me for shipping info outside of the continental US)
~~~~~~~~~~~~~~~~~~~~~~~~~~~~~~~~~~~~~~~~~~~~
All paintings are copyrighted hand created originals. Unless stated otherwise they are painted on wood panels and all creations are sanded and stained to give a warm antiqued look. Let me know if you have ANY questions – thank you for taking a look at my work! I am SO lucky to be able to do what I love and am happy to share my creations with you!
~~~~~~~~~~~~~~~~~~~~~~~~~~~~~~~~~~~~~~~~~~~~
---