LLA Creations
Welcome to LLA Carve Creations where you'll find one of kind folk art, holiday and whimsical characters. I love to create folk art that makes you smile or make you wonder what they're up too! Thank you for taking the time to visit my page on PFATT Marketplace and if you need more information or have questions please feel free to e-mail me.
---
Pet Day at Ghoulville!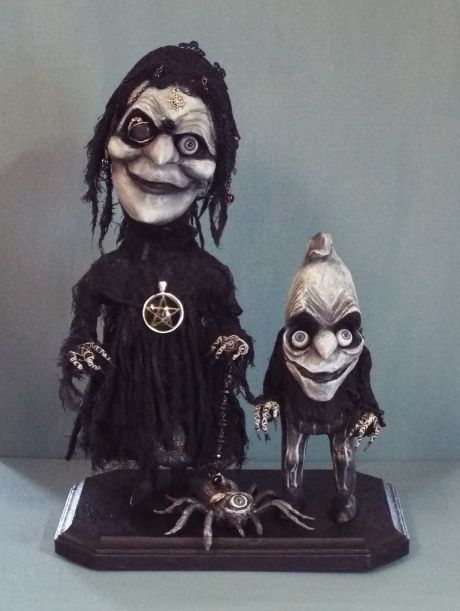 Pet day is always fun and a little bit dangerous at Ghoulville depending on what each pet is. The Hag and her friend, Al, brought the cyclops spider named Sid to the party.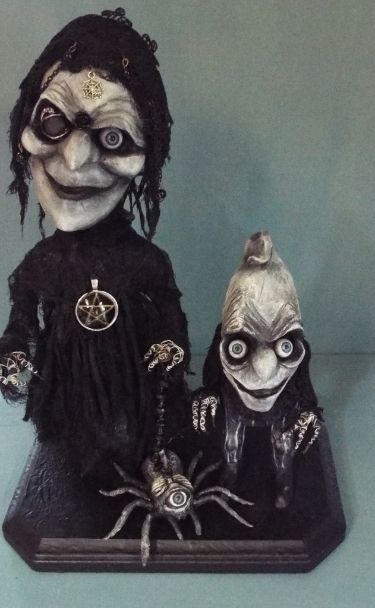 Hag and Al are sculpted out of paper clay then painted in several layers of acrylic paint; bodies are combination of wire, paper clay, material along with some lace, beads and jewelry. Sid the spider came from the land of lost toys that I converted to a cyclops. Wood base is textured and painted black then sealed with matte varnish.
Height: 14-inches Length: 10-inches Width: 7-inches.
$215.00 and shipping included in price. (USA only) SOLD!
To Purchase, please e-mail me at llacreations@yahoo.com
International buyers please e-mail me for shipping quotes.
~~~~~~~~~~~~~~~~~~~~~~~~~~~~~~~~~~~~~~
Thank you for taking the time to view my work and if you have any questions please feel free to contact me.
~~~~~~~~~~~~~~~~~~~~~~~~~~~~~~~~~~~~~~
---