Apple Hollow
---
SNOWBALL THE SNOWMAN
This whimsical Snowman named Snowball is made of muslin fabric; sewn; stuffed; and base-coated with several layers of paint. He nose and arms are made of clay. His Hat and Jacket are made from Felt. His Vest is painted Red with a painted Pocket and Pipe. The Candy Cane, Heart, Star and Gingerbread Man are made of Clay. The Shovel is Clay with a Wooden handle.
Measurements: 11-inches tall from top to bottom.
Price is $59.00 PLUS $7.95 Shipping in the Continental USA
To Purchase please e-mail me at applehollow@aol.com
For shipping elsewhere, please e-mail me.
~~~~~~~~~~~~~~~~~~~~~~~~~~~~~~~~~~~~~~~~~~~~~~~~
"POLLY PRIM" PUMPKIN DOLL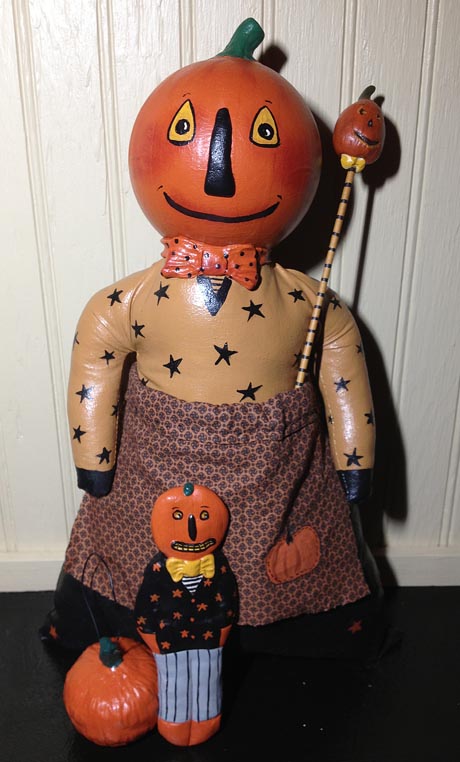 Polly is an original, one of a kind, New England Prim Folk Art Pumpkin Doll I made using one of my own designs. Polly's body is made of muslin Fabric that is painted with several coats of paint and finished with hand painted whimsical designs. Her head is made of Paper Mache with a Clay stem, Clay nose, and Clay Bow. She has a painted Shirt of Honey Gold with Black Stars and a Black Skirt with Painted Orange Starts. Her Apron is Fabric with a painted Pumpkin.
She has a 9" Stick with a Jack-O-Lantern on it made of Clay, a Clay Pumpkin with a Wire Handle, and a 9" Clay Jack-O-Lantern Doll. Polly is all handmade and will come Signed and Dated.
Measurements: stands 14" tall.
Price: $79.00 plus $7.95 Shipping in the Continental USA
To Purchase please e-mail me at applehollow@aol.com
---