Apple Hollow
---
"Wooden Uncle Sam Doll and Mini Sam"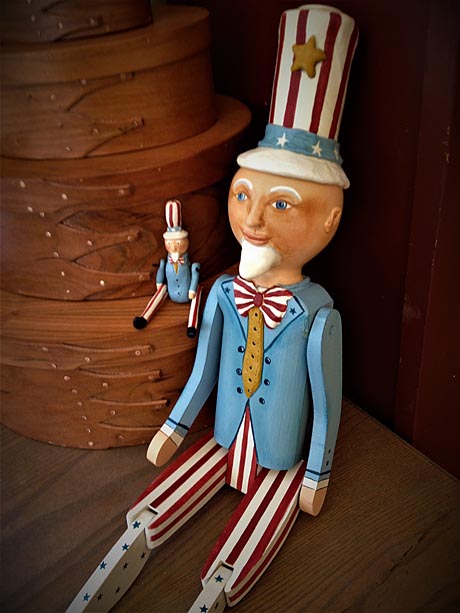 This Hand Made, One Of A Kind Jointed New England Folk Art Uncle Sam is made of Wood and Clay. Sam has a little Buddy, Mini Sam, who is made of all clay. Uncle Sam is 19-inches long with movable jointed arm, legs and knees, Held on with screws.
He is dressed in a traditional suit of Red, White and Blue with Stars and Stripes. Mini Sam who measures 4-inches tall, is dressed the same and has movable arms and legs. This is a great original piece to enjoy for Memorial Day, Flag Day, the Fourth of July and all year round!!
This One-Of-A-Kind is signed, dated, and painted with a touch of Whimsical New England Patriotic Folk Art Charm!
Price: $75.00 plus FREE Shipping in the Continental USA SOLD!
To Purchase please e-mail me at applehollow@aol.com
---