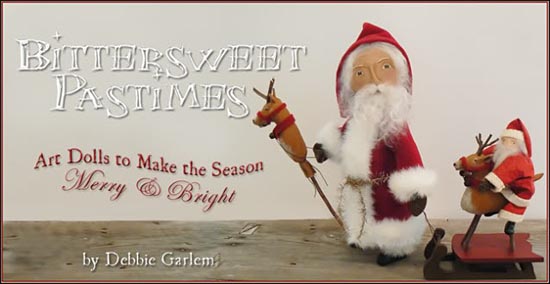 Bittersweet Pastimes
---
Pumpkin Carving with Friends
>
Happy Fall Everybody!
It's almost time for pumpkin picking and carving, and cooler weather! YAY! The inspiration for this set is the wagon that I picked up on one of my summer treasure hunts. When I found it, I knew it was coming home with me. Stella and her little friends are enjoying their wagon ride from the Pumpkin Carving Party. Little witchy Stella is made from painted muslin and wears a little dress with pantaloons, cape, boots, and hat. She likes sitting in the front of the wagon.
Her darling little friends, Little Spooky Spike and Little Witchy Wanda are enjoying standing up in the back of the wagon with their carved pumpkins. The little mice friends are made from painted wool felt. Although I have this little wagon decorated for Halloween, I can see it being decorated for every occasion.
Measurements:
• Wagon,excluding pull is 11"L x 6"W x 6½"H.
• Witch Stella with Hat is 13" tall.
• Spooky Spike Mouse is 3½" tall.
• Wichie Wanda Mouse is 4½" tall.
"Pumpkin Carving with Friends" is a One-Of-A-Kind original design by
Debbie Garlem and will come signed and dated.
"Pumpkin Carving with Friends" is $125.00 plus shipping as specified below: SOLD!
• $12 shipping East of the Mississippi
• $18 shipping West of the Mississippi,
• $25 shipping to West Coast states.
Please E-mail me for shipping charges to Alaska and Hawaii
To Purchase, please e-mail me at debbiegarlem@gmail.com
I accept PayPal and checks.
~~~~~~~~~~~~~~~~~~~~~~~~~~~~~~~~~~~~~~
If you have any questions, please email me. Have a wonderful September! - Debbie
~~~~~~~~~~~~~~~~~~~~~~~~~~~~~~~~~~~~~~
---