Calamity Kim

---
Flights of Faerie Bird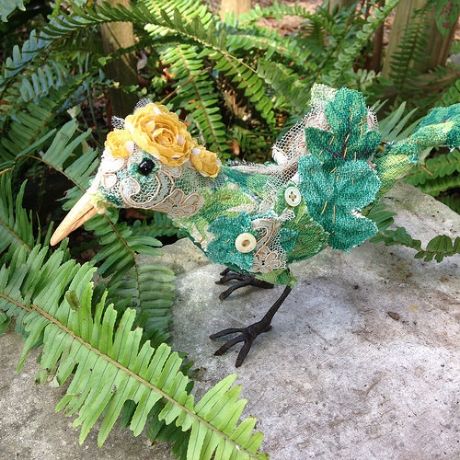 This Flight of Faerie Bird is hand-made and stitched using vintage bark cloth over a sewn and stuffed body. It has a wire armature that creates strong legs for her to stand upon. She has bits of lace and floral embellishments, vintage mother of pearl buttons, hand craved wooden beak and black glass bead eyes. This lovely bird stands 6½" tall and is 10" from the tip of her beak to the tip of her tail.
This lovely bird represents the first days of Summer when the sky is as blue as your finest faerie tale princess dress and you can hear the sweet songs of birds as they gladly create their nests and teach their fledglings to fly.
Price is $56.00 plus 6.55 shipping/handling SOLD!
Ships to Continental USA only. I accept PayPal.
---