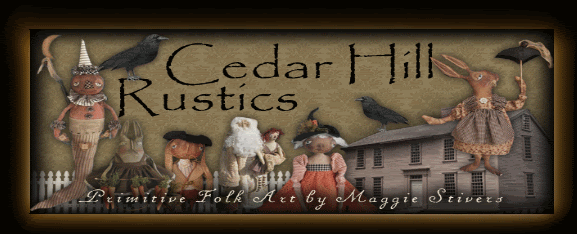 Cedar Hill Rustics

---
George Washington Flag Hanger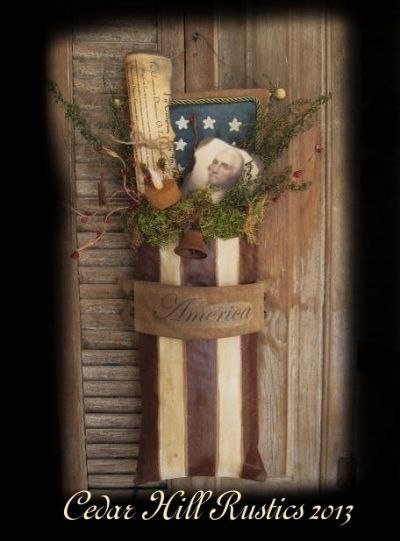 Hi and Happy May. I have for you this month a beautiful George Washington Flag pocket designed by Dee Duncan Folk Art. I saw this and just had to make it. I just love it and I'm sure you will too. The hanger is 30"inches tall and approx 7 ½" wide. It is made from muslin that is stained and painted. The stars are hand painted as well as the stripes. I have sealed it with a clear sealer to protect the paint.
Inside the pocket you will find a rolled up copy of the Declaration Of the Thirteen States of America, a photograph of George Washington, Sweet Annie, rusty stars on rusty wire, red pip berries, sphagnum moss, and a tea light that has been grunged with cinnamon and it really works. The Banner with America completes this great design. You will be proud to hang this on your door and if you love Americana you will love to display this anytime.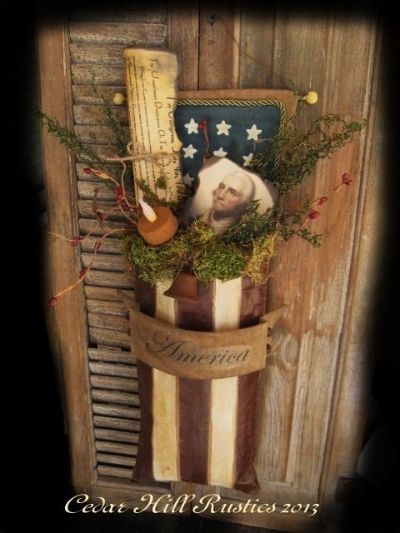 It will arrive signed and ready for display.
As I mentioned I have sealed the painted areas but to retain the integrity of this piece you may want to protect it from severe weather. (Rain, strong winds…ect.)

Price: Price for Washington Flag Hanger is $75.00 includes shipping inside the U.S.A.

SHIPPING: I will ship inside the United States at no charge. If you want to purchase and live outside the U.S.A. please email me with your information so I can charge accordingly.

My email is: zanem9@msn.com

Thank you so much for shopping with PFATT marketplace today. I hope you will continue to check out all the artisans in this wonderful group.

Blessings Maggie =)











~~~~~~~~~~~~