The Cheswick Company
---
"Just in Time for Easter" ~ Hatching Chick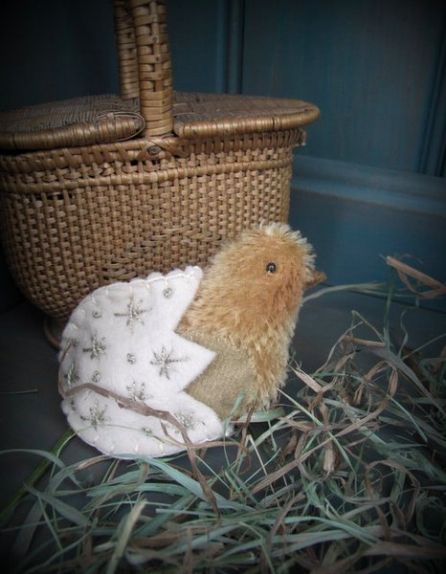 Hatching from the egg is a little 3" mohair chick with wool wings and bead eyes. The egg is a half, or broken egg ~ made from felted wool in an oatmeal color, embroidered in sage green. All of the stitching is done by hand
$22 plus $3.95 travel fare.
Please e-mail me at cathy@cheswickcompany.com to purchase
~~~~~~~~~~~~~~~~~~~~~~~~~~~~~~~~~~~~~~
"Just in Time for Easter" KIT to make your own!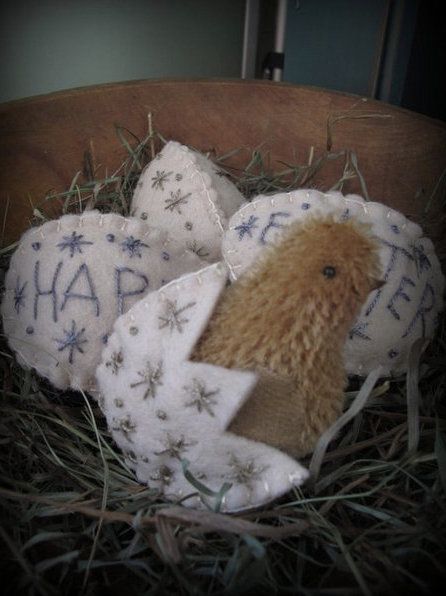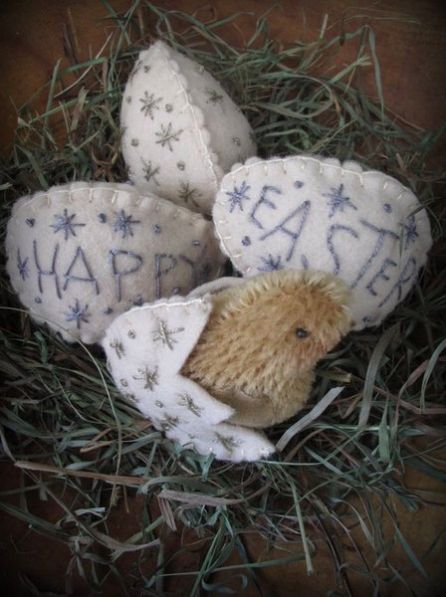 Want to Make your own Easter Display? Here's the "Just in Time for Easter" KIT! The KIT Contains the pattern and fabrics to make this hatching chick and 3 whole eggs.
One egg is embroidered with stars and french knots in a sage green. Two of the eggs are embroidered in periwinkle with stars, french knots and the words "Happy" and "Easter". The final egg is a half, or broken, egg embroidered in sage green. Hatching from the egg is a little 3" mohair chick with wool wings and bead eyes.

Kit includes:
• Pattern
• 12" x 12" Oatmeal wool felt (100% wool)
• 3½" x 9" 5mm gold mohair
• 2" x 4" hand dyed wool (for chick wings)
• small scrap white or tan wool felt
• 20" platinum silk ribbon- ¼" wide

Also needed:
• Dusty blue and Sage green pearl cotton embroidery floss (#5)
• Off-white pearl cotton embroidery floss (#8)
• Tan quilting thread
• Light brown acrylic paint
• Cosmetic blush and a q-tip
• Hot glue

The "Just in Time for Easter" KIT is $20 (plus $3.95 first class travel fare in US)
Please e-mail me at cathy@cheswickcompany.com to purchase
Many thanks for stopping by!
---