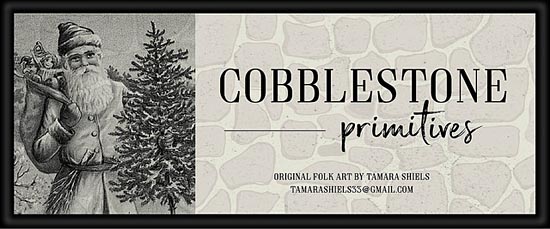 ---
"Uncle Santa"
This Americana Santa is a one of a kind original design made by me without the use of patterns or molds of any kind. He is mostly hand stitched with some machine stitching. I spend loads of time on every detail and I know when he arrives you will agree.
Santa's face is hand sculpted clay that has been painted and aged. His hair and beard are aged pure sheep's wool. Santa's coat is vintage heavy red wool and his perfectly blue pants are aged burlap. His coat and hood are trimmed with a cotton trim that is printed with the word "America" with red stars. The flag sash attached to the front of his coat was the perfect accessory to complement his beautiful red wool coat! His boots are painted and laced around the metal shoe buttons.
Santa's tree is a beautiful bottle brush tree with red beads and adorned it with antique blue mercury glass ornaments. He is also holding a vintage pocket watch that has a face on each side. I used a vintage chain from an old necklace to attach it to his hand. I love using things from my unique finds through the years! I love my stash of found objects sitting in beautiful jars in my studio waiting to be used!!!
I made the drum and everything inside the drum. Nothing was purchased and each item is unique. I used vintage images of games, books, and blocks to achieve his authentic "Old World" look! Inside the drum you will find a vintage Uncle Sam paper doll image, a Game of Flags" game, (I made a box for the image to resemble that of an actual game), a book titled Uncle Sam rhymes for Santa Claus times, (I made an actual book with aged book pages), wooden blocks that I affixed old block letter images that spell out USA), paper flags, and I added a few antique mercury glass ornaments for that perfect finishing touch!
In his hand he is holding a book that I made from a vintage book image titled "Little Soldier Boys." The book has aged pages inside. He is also holding vintage game image titled "Battles" that I also made a box to resemble an actual game. I love the way this Santa turned out!!! He will make a beautiful addition to your Americana decor as well as your Christmas decor to be enjoyed for years to come.
Measures: Santa is 29½" tall. He is securely fastened to a beautiful red barn wood base that measures 13" wide. This barn wood is from a barn that has been in the family for over 100 years.
This Uncle Santa is an original design and will arrive signed and dated. No patterns are ever used.
Price for "Uncle Santa" is $180.00 with FREE shipping to Continental US.
Please e-mail me to inquire about shipping rates outside the US.
Many thanks for stopping by!
---