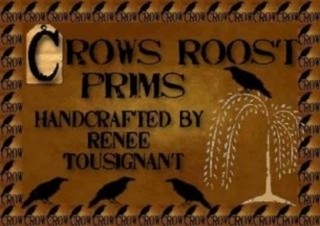 CROWS ROOST PRIMS
---
ESMERELDA PUMPKIN WITCH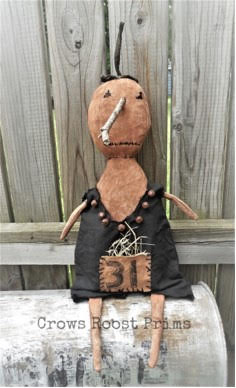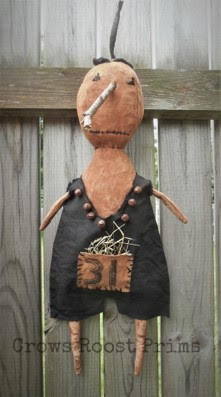 Esmerelda is approx. 19 inches tall head (not hat) to toe. Has a roundish head. Made of painted and aged canvas fabric, rag stuffed for that primitive feel. Has hand stitched eyes, mouth and a stick nose.
Wears a painted and aged canvas hat and a short jumpsuit with a pocket that I added some hay to. Seven rusty jingle bells sewn around the top.
Hangs and sits.
This is NOT A TOY and NOT FOR CHILDREN 12YRS. OR YOUNGER.
Price is $53.00 + USPS Priority shipping in the USA only.
To Purchase, or if you have questions, email me with your zip code at:
tous@charter.net
~~~~~~~~~~~~~~~~~~~~~~~~~~~~~~~~~~~~~~~~
AMERICANA TICKING SAMMIE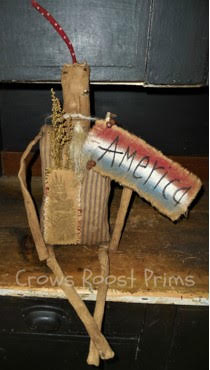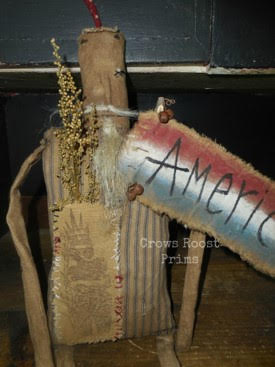 This Extreme Primitive Americana Ticking Sammie is approx.. 25 inches tall. Made from aged canvas and blue striped heavy ticking fabric. Rag stuffed for that primitive look and feel. He has a pinch stitched nose, floss eyes, mouth and has a flax mustache and beard.
I hand sewed a rubber stamped, canvas pocket to him with different colors of embroidery floss and added some Sweet Annie inside. A cotton and canvas hat is sewn to his head. Painted and aged canvas flag sits in the pocket.
Sits and hangs.
This is NOT A TOY and NOT FOR CHILDREN 12YRS. OR YOUNGER.
Price is $58.00 + USPS Priority shipping in USA only.
To Purchase, or if you have questions, email me with your zip code at: primdlite1@gmail.com
---