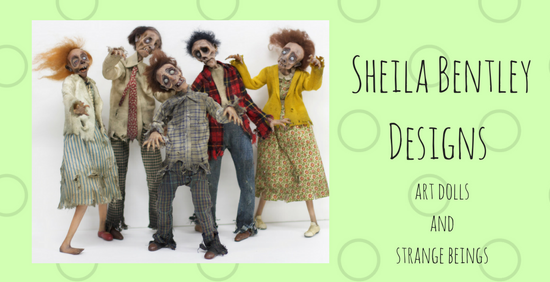 ---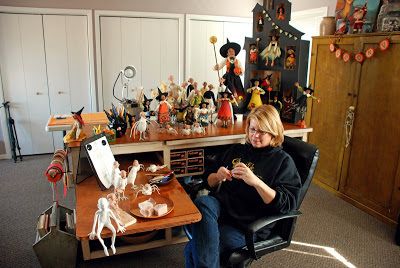 A little bit about me...
I have always been drawn to the human form, and at an early age started drawing and painting portraits. Once I discovered polymer clay and tried my hand at sculpting art dolls, I was hooked. I specialize in All things Halloween, but am open to sculpting anything strange!
some of my favorite things, and things to do are:
spending time with my kids and grandbabies, Halloween, Folk Art, Bats, Biking, Rescuing dogs, Junking
~ Sheila Bentley
---
Here's my offering for the PFATT Marketplace!
"Flying Hag"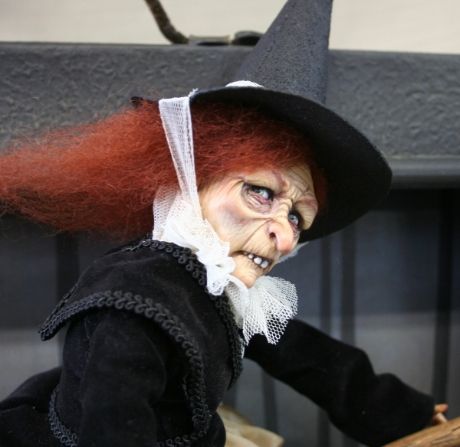 This funky flying hag and her little rat friend are framed by a vintage briefcase. The piece is 23" wide from broom end to case end and 15 inches tall to the top of the leather strap. It can sit on a shelf or be hung on a wall.
Price $480.00 plus $15.00 USA shipping with insurance. To Purchase, please e-mail me at witcharte@yahoo.com
~~~~~~~~~~~~~~~~~~~~~~~~~~~~~~~~~~~~~~~~~~~
Do you want to receive exclusive early shopping at all
ornament events and invites to private events?
Sign up here: http://arbutushunter.blogspot.com/
~~~~~~~~~~~~~~~~~~~~~~~~~~~~~~~~~~~~~~~~~~~
---
Here are some examples of my other works