---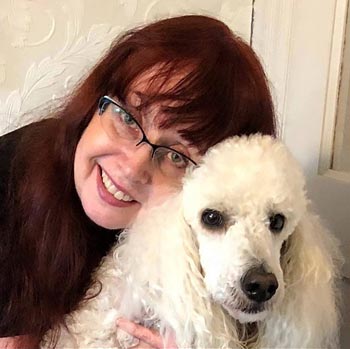 A little bit about Becky Federico....
Since 2003 I have specialized in whimsical Fantasy Felines and Posh Poodles with hand painted and original designs on wood cigar boxes and wooden pieces, creating one-of-kind purses, keepsake boxes, collar boxes and pendants. Many themes include Halloween, Victorian Gothic, Steampunk, Fantasy, and poodle & cat whimsy.
My favorite things are poodles & cats! Plus, a love for antiques which inspire some of my designs.
Most of my sales take place on Facebook, but I do use Etsy, too. I am please to offer one of my items on The PFATT Marketplace this month.
~ Becky Federico
---
Here is my offering for the PFATT Marketplace!
~~~~~~~~~~~~~~~~~~~~~~~~~~~~~~~~~~~~~~~~~~~
Poodle Necklace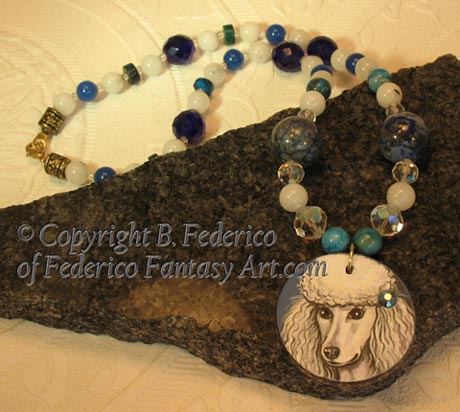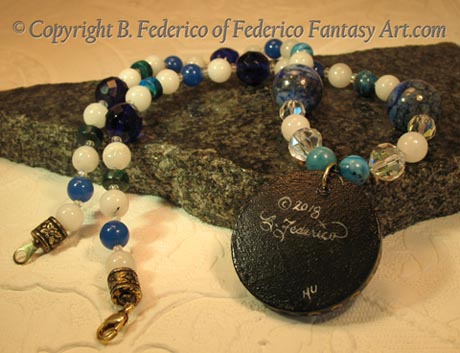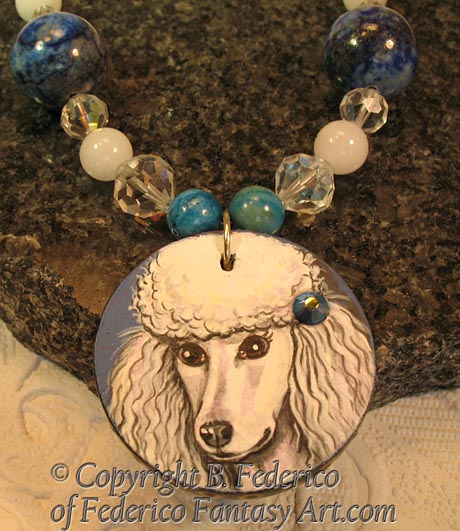 Hand painted Poodle Pendant Necklace w/ Lapis Lazuli, Chrysocolla, & Rutilated White Quartz, plus glass beads. The poodle is white on a blue background. Painted in acrylics on a wooden disk measuring 1½" across. Necklace measures approximately 18" in length, end to end.
This is a One-Of-A-Kind original by Becky Federico of Federico Fantasy Art. It comes signed and dated.
Price is $60 plus FREE shipping
To Purchase, please e-mail me at federicoartpainting@gmail.com
For shipping information please email me.
---
Some of my previous works!