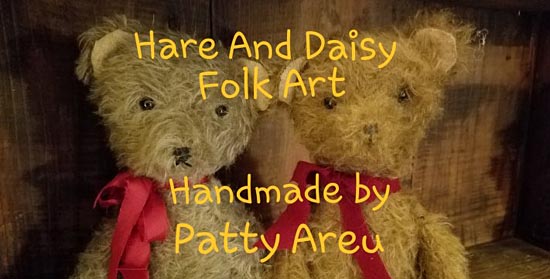 Hare and Daisy Folk Art
---
"Primitive Cat"
Thank you for stopping by my page! My offering this month is something a bit different. I decided on a more prim piece, and came up, with "Primitive Cat". I did not use a pattern for him. He is completely hand stitched, weighted, and partially rag stuffed. He sits nicely on his own. I have given him lots of repair stitches, and wear to make him look old and well loved. He has been through my prim process.
His head, arms, and legs are made from painted, and sanded osnaburg fabric. I used a black calico cotton print fabric for his body. His neck is adorned with a small rusty bell. He is all ready for the Fall season with his pumpkin on a stick. I hand stitched the pumpkin to a real twig, and added hand painted, and aged ribbons. He comes from a smoke-free home.
Measurements: He measures 10" tall, and 7" at widest point.
"Primitive Cat" is One-Of-A Kind piece and will come signed and dated. He is an adult
collectible not meant to be a children's toy.
Price is $48.00 with free USPS Priority Mail Shipping in the Continental US. SOLD!
To purchase please email me at speckledcrow@windstream.net
If you have any questions please email me.
~~~~~~~~~~~~~~~~~~~~~~~~~~~~~~~~~~~~~~~~~~~~~~
Thank you so much for stopping by!
You can email me anytime with questions at: speckledcrow@windstream.net
Please visit my Facebook page for more photos.
~~~~~~~~~~~~~~~~~~~~~~~~~~~~~~~~~~~~~~~~~~~~~~
---