Artist's Bio - Lindsay Bowles of Lindsay Bowles Studio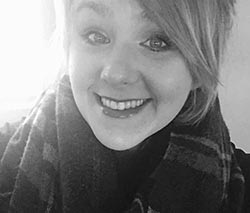 I was born and raised in Vermont on a dirt road, surrounded by nature and a family of creatives. My first love was fine art. I would always be drawing, painting and sketching. Eventually, I would go onto art school. Folk art, antiques, teddy bears & fabric have always intrigued me, but it wasn't until my late 20's that I really began to embrace & evolve my own eclectic style.
My work includes rug hooking patterns, needle felted sculptures, jointed teddy bears, sheep & landscape paintings, mixed media sculpture, children's book illustrations, watercolor, pen and ink-all of which tell their own story in one way or another. I love to go thrifting & antiquing to find interesting surfaces to paint on, old buttons, lace and fabric for teddy bears and other mixed media projects. I love to reuse and upcycle materials as well! You can usually find me in my home studio at the top of the stairs with a big ole cup of coffee, classical music in the background, multiple projects going & atleast one dog laying on my feet.
- Lindsay Bowles