Artist's Bio - Tiffany Johnson of Northern Mittens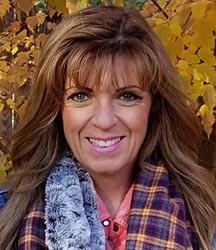 I Love being creative and have been since I can remember. As a little girl my favorite things to do were anything that involved creating something. Whether it was painting and sewing with my mom, or hanging out and hammering nails with my dad in his workshop, seeing something and figuring out how I could make it myself, craft kits, and everything creative!
I Adore sewing, creating and crafting! Each and every one of my items is made with Love, Care, Attention to Detail and a Happy Heart! God gave me this gift and I enjoy so much that he did!
I've always Loved making decorative dolls, especially Raggedys, (my very first doll was a Raggedy Ann and she has always been my favorite), since the early 90's after my first daughter was born I began sewing on my hubby's grandmothers old singer and just fell in love. I began creating and have never stopped.
Seeing each of my creations come to life with either a hand painted face, whimsical hat, beautiful wool sweater or an oh so soft hand laid hair or beard just makes me smile!
~ Tiffany