Pea Picker's Primitives
---
ZIPPIDY DOO DAH
Just zipping from one end of the garden to the other. Carrying his little friend( La Dee) with him. Ah the carefree days of summer. Zippidy is a Whimsical Endeavors original, One of a kind, One at a time. (c) 2013 Phillane E'lee. This creation was made using my own Zippidy Doo Da pattern. See below.
He is made from osnaburg. He features separately stitched eye lids & nose. Beautiful blue eyes and a whimsical grin. Lightly blushed cheeks to make his smile shine.
He is a beautiful, iridescent dragonfly green/blue. Wired arms to pose as you wish. Placed on a dowel to stand freely. His wings are also wired. Wrapped in stained cheesecloth.
His base is wood, painted and sealed. He measures with stand 16 inches tall.
May he bring a smile to your face and a tug at your heart.
Price with U.S. Shipping included is $68.00
SOLD
~~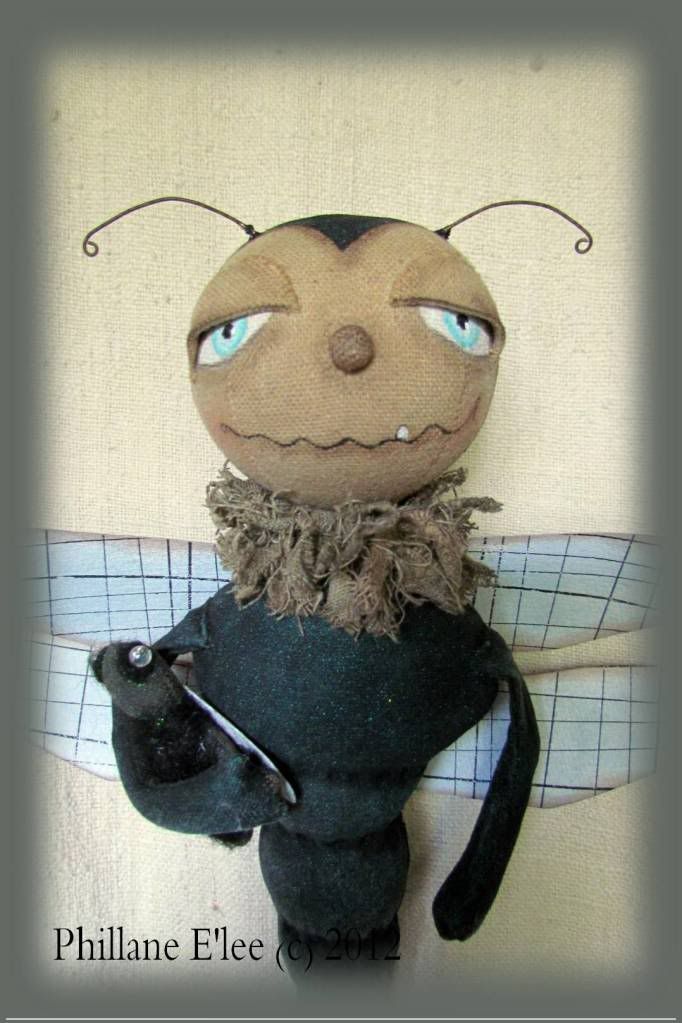 Zippidy Doo Da E-pattern
After many requests I made my Sweet Dragonfly Zippidy a pattern.
He measures 14 1/2 inches tall. He is made from fabric and all full size patterns, detailed instructions and supplies list is included in the E-pattern There are 3 full color pictures included. You will also receive the pattern for his little friend Pesky.
Price for the Electronic PATTERN ONLY is $5.00
Please contact me for purchase.
Thank you for taking the time to view my items. Have a blessed day.

________
-------