"Plucky" the Halloween Duck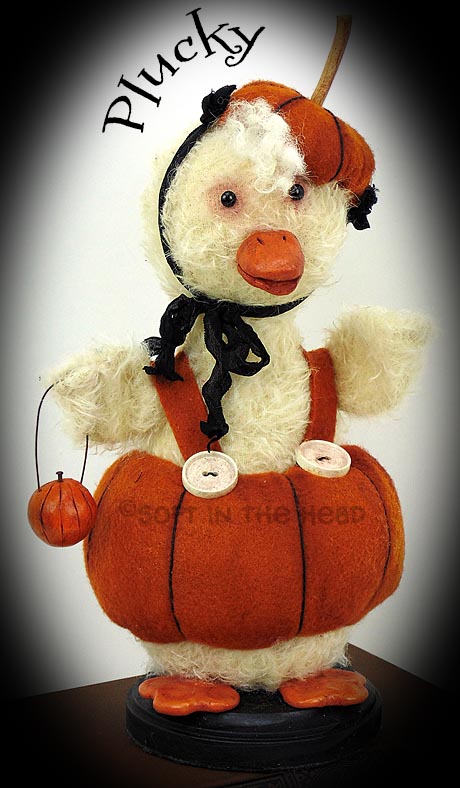 ***Taking up to 4 orders***
"Plucky" the Halloween Duck loves to "Trick or Treat" and is all dressed up in his unique "Pumpkin" Halloween costume. He is ready to go Trick or Treating! Plucky comes from the Hallowed Marsh where he has won "Best Costume" at Quack & McGill's Halloween party for two years running. He likes this costume so much he just might wear it year round.
Plucky is made from Mohair with clay accents and bead-glass eyes. His pumpkin costume is made of wool with sewn accents. Two old-time buttons attach his suspenders to his costume. A real pumpkin stem is attached to the top of his hat and a silk ribbon is holding the hat in place (hat is sewn in place and is NOT removeable). The wings are poseable making it easy to carry his favorite pumpkin, which is made of clay and wire. Plucky is mounted on a round wooden base.
Measurements: "Plucky" stands approximately 9" tall.
"Plucky" is an original Soft in the Head design
by P.K. Gracia and will come signed and dated.
Like all "Soft in the Head" characters "Plucky" is not a toy for
children under 12, but for collectors and decoration only.
***I am taking up to 4 orders ONLY 1 order left! for Plucky the Halloween Duck.***
Please allow 3-weeks for construction and shipping.

Price is $115.00 each plus $15.75 Priority shipping within the continental U.S.
To Purchase, e-mail me at softinthehead@gmail.com
Please e-mail me for shipping quotes elsewhere.
---