The Sunflower Cupboard
---
VINTAGE HYDRANGEA PLANTER
Vintage-looking verdigris-finished plantar that I discovered in a small shop in St. Paul. I saw it and immediately saw blue hydrangeas! There are cast metal lion heads on the ends with rings. My goal was to paint the hydrangeas but have them blend into the background and I love the way it turned out! Before painting, I carefully cleaned, dried and sealed the piece.
After painting, I again sealed the piece. As a note of caution, this would need to be protected if used outdoors and I would suggest if one were to want to put a plant in it that the plant be contained in a waterproof container first. Of course, silk flowers would be more convenient and just as beautiful!
I also pictured this sitting on a vanity with decorative soaps inside. So many possibilities of things to do!
This one-of-a-kind design measures 7¾" in length, 4¼" wide, and 5-3/8" tall.
Price for the "Vintage Hydrangea Planter" is $35.00 and SOLD!
includes priority shipping inside of the USA
International buyers, please e-mail me for shipping costs.
~~~~~~~~~~~~~~~~~~~~~~~~~~~~~~~~~~~~~~~~~~~~~~~~~~~~
WELCOME SPRING!
I would guess that it is not to early to be thinking of Easter decorations. I designed this piece with that in mind. I utilized an old piece of pine barn wood, sealed it well and painted my design.
Rather than a "feather tree" I used a wood dowel tree sitting in a clay pot with "painted wooden cut outs" and an Easter banner at the bottom. The bunny has blue button eyes and a nice blue bow. The entire piece is bordered in a green frame with blue painted blanket stitches.
Measurements: 15" tall, 7¼" wide and the wood is ¾" thick.
There is a saw tooth hanger attacked to the back for hanging.
Price for "Welcome Spring" is $35.00 and includes priority shipping inside the USA
International buyers, please e-mail me for shipping costs.
~~~~~~~~~~~~~~~~~~~~~~~~~~~~~~~~~~~~~~~~~~~~~~~~~~~~
FEATHERS AND EGGS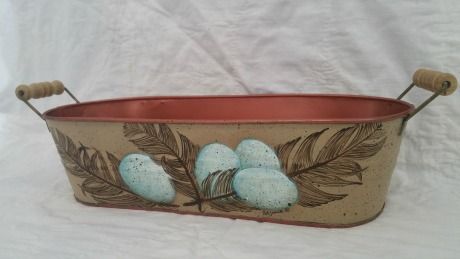 I designed this piece as something that can be displayed during the Easter/Spring season but would not have to be limited to just this place in time.
The surface is tin that has been painted on bottom and inside with a luscious copper paint. The side panel is painted with a tan paint and then speckled eggs and fine line feathers are added. The design is on both sides. Once allowed to dry, another level of speckling was done with a dark brown. The wooden handles have been left alone and should age beautifully.
From handle to handle, the piece is approximately 15" long, 5¼" wide and 4" high from handle to the bottom.
Price for "Feathers and Eggs" is $37.50 and includes priority shipping inside the USA.
International buyers, please e-mail me for shipping costs.
---