Sweet Things by Arlene
---
Bunny on the Run with a Strawberry
Sweet little bunny running thru the garden with the first strawberry of the season, bunny is made of an off-white plush felt that i aged...attached to an old door knob...the strawberry is made from wool felt...sweet crinkled ribbon tie...and a needle felted tail...bunny is based on a Cinnamon Creek pattern.
Measures: is approximately 12" long and with out-stretched ears is 9" tall. If not stretched out 7" tall
"Bunny on the Run" is $37.99 with FREE shipping in the U.S.
for shipping outside the US, please e-mail me for details.

~~~~~~~~~~~~~~~~~~~~~~~~~~~~~~~~~~~~~~~~~~~~~~~~~~
Sweet Stump Bunny and Her Strawberry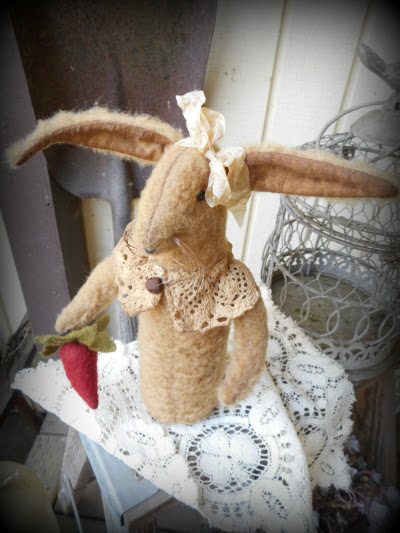 Spring has sprung bunnies and berries...i have this sweet stump bunny with her juicy strawberry...she has a sweet crochet lace collar...all fabric has been aged...i used a honey colored plush felt...crinkled ribbon a top her head...little rusty bell...she is based on a Cinnamon Creek pattern..
Measures: with out~stretched ears, she is almost 11" tall. With out them stretched out, approximately 9" tall.
Price is $29.99 includes FREE shipping in the U.S.
for shipping outside the US, please e-mail me at sweetthingsbyarlene@msn.com
---