Tricky Stitches Studio
---
"Bloom" Paper Mache Houses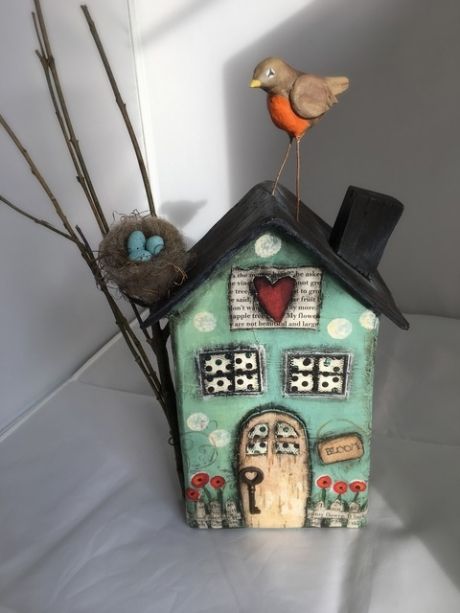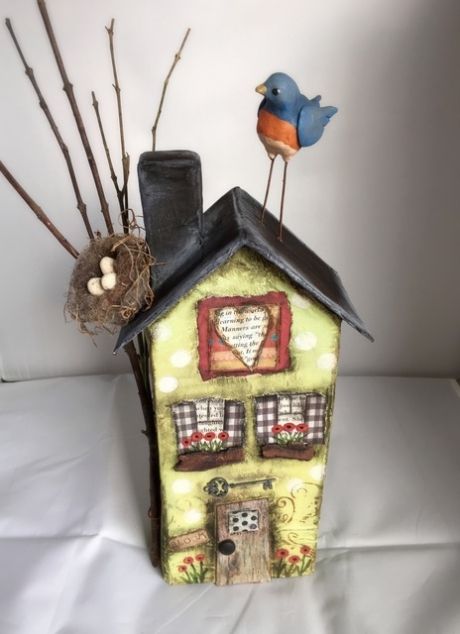 Bring a little Springtime into your world with one of these Bloom houses! They are made from paper mache and assorted mediums. Layers upon layers of paper, pastels, pencils, paint and found objects were used in the assemblage. The doors are made from birch bark, the flower boxes on the green house are made from the bark of an ancient silver maple in my yard. The birds and eggs are sculpted from clay and the nests are made from felted wool and dried moss. The trees are small branches I've collected here and there. The houses have been sealed with artist medium.
The smaller blue colored house measures 8 1/2" x 5" (house only) and the entire piece is roughly 14"x11". The larger green house is 10"x 5 1/2" (house only) and the entire piece is roughly 16"x 9".
Prices are:
• $98 + shipping for the blue house SOLD!
• $105 + shipping for the green house SOLD!
International customers please email me for shipping price.
To Purchase, please e-mail me at trickystitchesstudio@aol.com
~~~~~~~~~~~~~~~~~~~~~~~~~~~~~~~~~~~~~~~~~~~~~~~