Artist Bio - Aiga Mio Blowick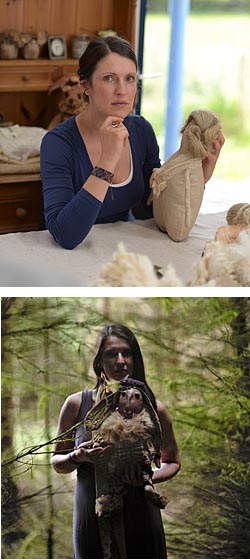 I was born in Latvia and grew up there . Latvia is Baltic country bordering the Baltic Sea and it is a land Famous for amber and ancient oak trees. This is where my love of nature comes from and it is what inspires most of my works. Many of my creations are animal based. I spent most of my summers in the countryside where I was surrounded by lakes, rivers, trees, wild deer, boars, foxes, hares and rabbits and these experiences inspire my works to this day. I loved art and all things artistic since I can remember.
I could see art pretty much everywhere – in the old offcuts of timber floors for example where I was trying to make out shapes of animals, caricatured people or aliens, in walls with cracked paint coming off, the colours of the forest, flowers, rivers, rocks and clouds. I see artistic inspiration all around me. When walking in my grandmother's forests, I use to bring home baskets full of creative things, pure treasures to me, interestingly-shaped branches, pine cones, red-belted bracket fungus, that I later would make into candle holders, or just use in a setting to play with the few dolls I had.
When I moved to Ireland in the year 2000 I'm was very fortunate to find myself again in the midst of wonderful unspoilt nature, being based in the West of Ireland and close to the Atlantic Ocean. I am blessed to have hares running and playing just outside my house, sheep grazing all year round, hedgehogs, foxes, wild pheasants and countless species of birds inhabiting the nearby forest.
I truly enjoy making one-of-a-kind dolls. When an image of a doll comes to me in a dream or vision, I can't rest until it is put on paper, fabric, stitched together and has taken its earthly shape. Dressing and finishing the doll is undoubtedly my favourite part of the creative process. To see the finished doll, that you have created and given a soul to, is just an amazing experience. I do believe that dolls reflect their maker and in all my dolls I see a lot of myself.