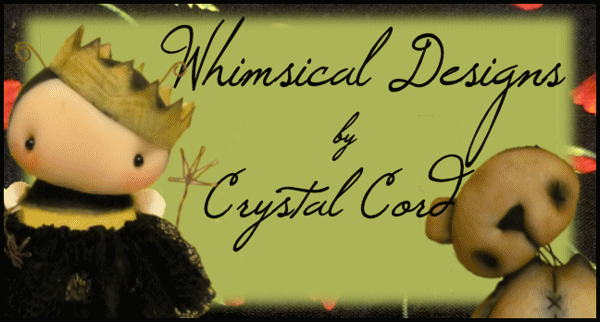 Whimsy by Crystal
---
Gretchen & Tweedle
"A Bewitching Ride"
On Halloween Gretchen summons her pet Tweedle for a ride above the clouds, before they scare all the children and steal their candy corn.
They are made from fabric and hand painted. Gretchen is wearing a layered fabric dress with tulle, red and white dot bloomers and trim top. Wool felt witch hat and dark green Tibetan lamb wool hair. She has glass bead eyes and rusty wire hands. She is securely attached to Tweedle.
Tweedle has rusty wire arms and glass bead eyes and is attached to his distressed wood base.
Measures ~ 12 inches tall.
© 2017 Crystal Cord - not intended for children
Gretchen and Tweedle are $68.00 plus $7.00 USPS Priority Shipping to the USA
International shipping please e-maIl me for shipping rates
To Purchase, email me at SomethingWhimsy@comcast.net
~~~~~~~~~~~~~~~~~~~~~~~~~~~~~~~~~~~~~~~~~~~~~~~~~~
"I got my eye on you!" - Peeper Eye doll
I think someone's watching me! I love this little shelf sitter. Peeper is made from soft fabric and hand painted. His iris is painted shades of blue with hand embroidered dark blue and light blue highlights. He sits on his own.
Measures 5-inches tall not including his legs.
© 2017 Crystal Cord - not intended for children
"Peeper Eye doll" is $30 plus $7.00 USPS Priority shipping to the USA
International shipping please e-maIl me for shipping rates
To Purchase, email me at SomethingWhimsy@comcast.net
---