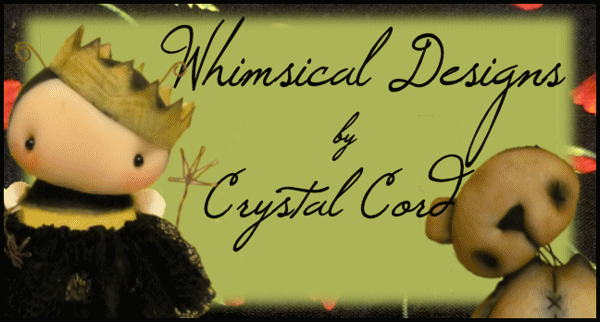 Whimsy by Crystal
---
Azure Demon
Be careful this guy bites! :)
He is made from fabric and hand-painted. He has glass bead eyes; rusty wire arms and legs; wool felt wings; and he holds a small pitch fork. Stands all by himself
Measures: Approximately 7-inches tall
© 2018 Crystal Cord (not intended for children).
"Azure Demon" is $30.00 plus $7.00 USPS Priority Shipping to the USA.
To purchase, please e-mail me at somethingwhimsy@comcast.net
International purchasers please email me for shipping rates.
~~~~~~~~~~~~~~~~~~~~~~~~~~~~~~~~~~~~~~~~~~~~~~~~~~
Farmhouse Betty Doll
A sweet little girl looking for a shelf to hang out on. :)
She is made from fabric and is hand-painted. She has glass bead eyes and a little flower print layered dress with red check legs. Rosewood red Tibetan lambs wool is used for her hair and her bow matches her dress. Sits just fine all by herself.
Measures: Approximately 8-inches tall not including legs
© 2018 Crystal Cord - not intended for children
"Farmhouse Betty Doll" is $45 plus $7.00 USPS Priority shipping to the USA
International shipping please e-maIl me for shipping rates
To Purchase, email me at SomethingWhimsy@comcast.net
---